תיאור
שם מוצר: דונגל מתאם USB לציוד היקפי למחשב עם מערכת הפעלה  Windows
יצרן: Avantree ( אוונטרי )
צבע: שחור
מידע נוסף:
>   מתאם בעיצוב קומפקטי
>   מותאם למערכת הפעלה: Windows 10/8/7/ Vista/ XP
>   איכות שמע מעולה וצליל נקי
>   התחברות והשמעה ממגוון מוצרי בלוטוס ( אוזניות בלוטוס, רמקול בלוטוס ועוד)
>   ללא השהייה בין תמונה לשמע
>   מאריך טווח – עד 10 מטר
Type: USB Wireless Adapter for Windows PC, Support Bluetooth products
Producer: Avantree
Color: Black
Overview:
USB Bluetooth Adapter Support all Windows 10 / 8 / 7 / XP / Vista music streaming,
skype calls and data transfer
Bluetooth enable
For Windows 10 / 8 / 7 / Vista / XP Laptop or desktop computer. Turns Non-Bluetooth
PC or laptop into Bluetooth-capable. It is NOT compatible with Mac, Linux, TV or Car
stereo systems.
Music & calls
Connect with Bluetooth headphones, speakers or receivers for wireless stereo music
streaming. Also for Skype calls, Google Hangouts and mobile phone/tablet files transfer.
Data transfer
Connect with Bluetooth keyboards & mice (NOT 2.4G devices), printers, projectors,
PS4 / Xbox One S controller and other BLE (Bluetooth Low Energy) devices. For
controllers you may need to install specific drivers for different games / software to
configure button settings. It is NOT compatible with Xbox one controller or Nintendo
consoles.
Plug & play for Win10
For native Win 10 and Win 8*, plug into USB port and windows will auto-install the
required drivers. For Win 7, Vista, XP, install the driver from the CD or download from
Avantree support site.
Note: the driver from CD and our support site is completely
FREE. Other sites may charge you.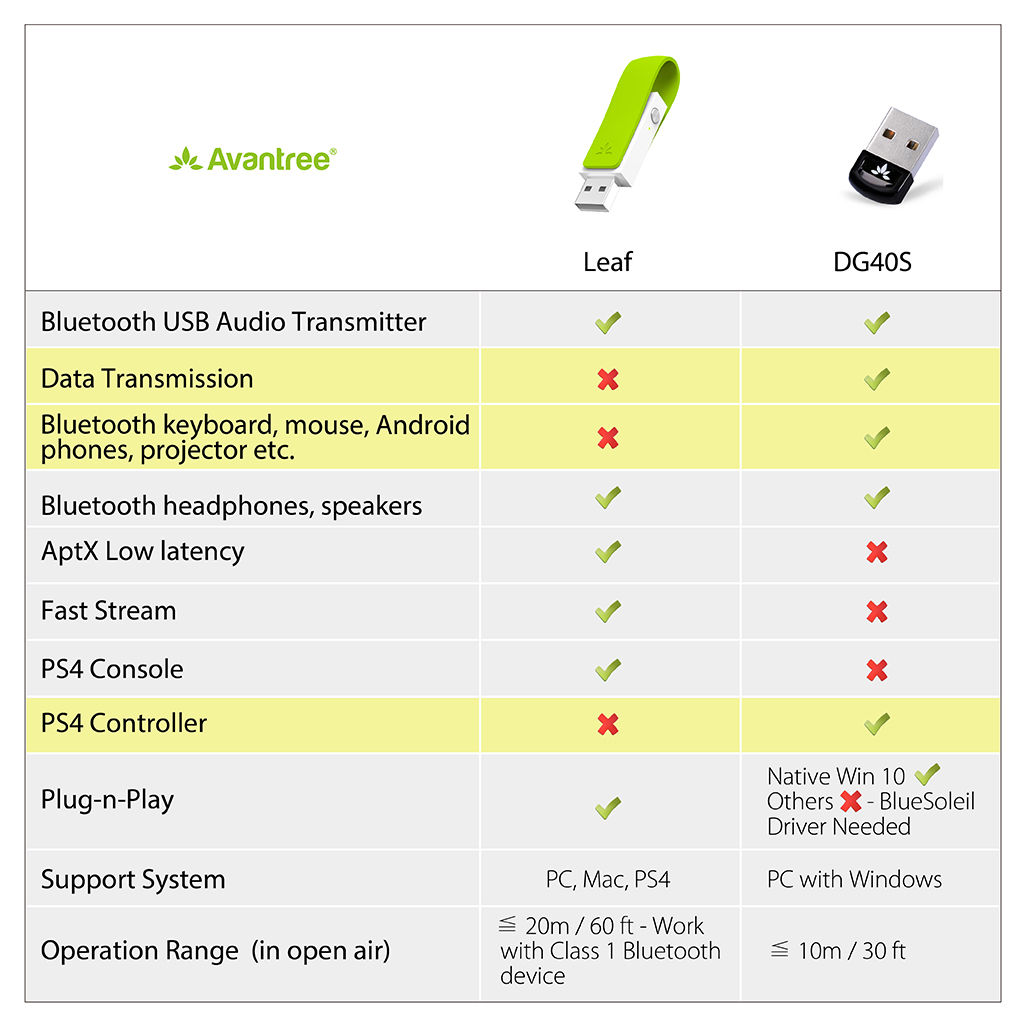 Specifications :
Bluetooth Version – V4.0
Audio codec support – SBC
Bluetooth Profiles – A2DP, AVRCP
Operation Range up to – 10 meters
Product Size – 1 cm X 2 cm X 0.5 cm
What's in the box :
Avantree BTDG-40S
User manual